BPS opens next Wednesday!! Please be sure to do a morning health check with your child and PLEASE keep them home if they are showing signs of illness. We will be opening with masks being recommended, but not required. Your assistance in helping us stay mask free and healthy is greatly appreciated!!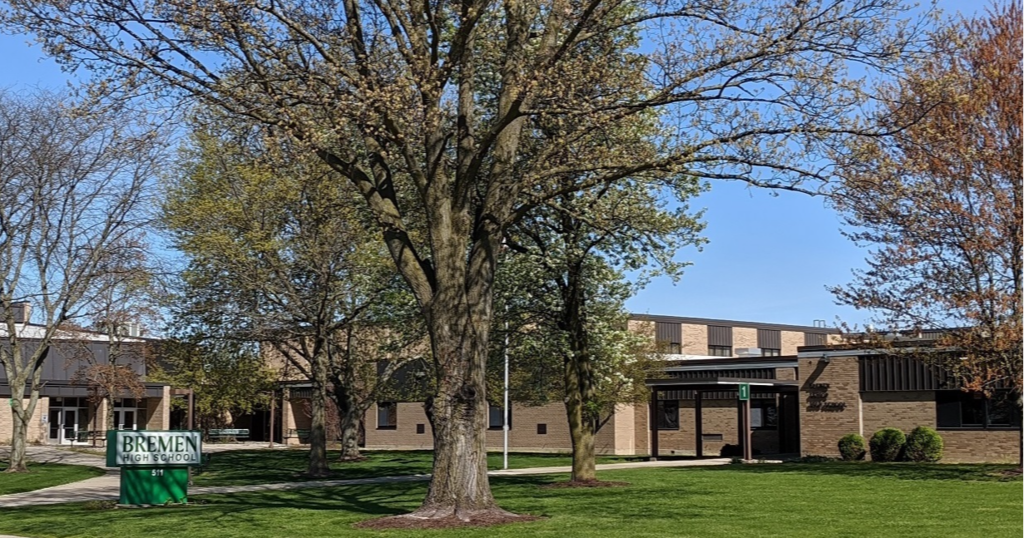 The Marshall County Mobile Medical Unit will be at the school tomorrow from 1pm-5pm. They will be located in the parking lot off of Grant Street across from the high school. Please stop by if your student still needs their childhood immunizations. No appointment needed.

It's almost here...see below.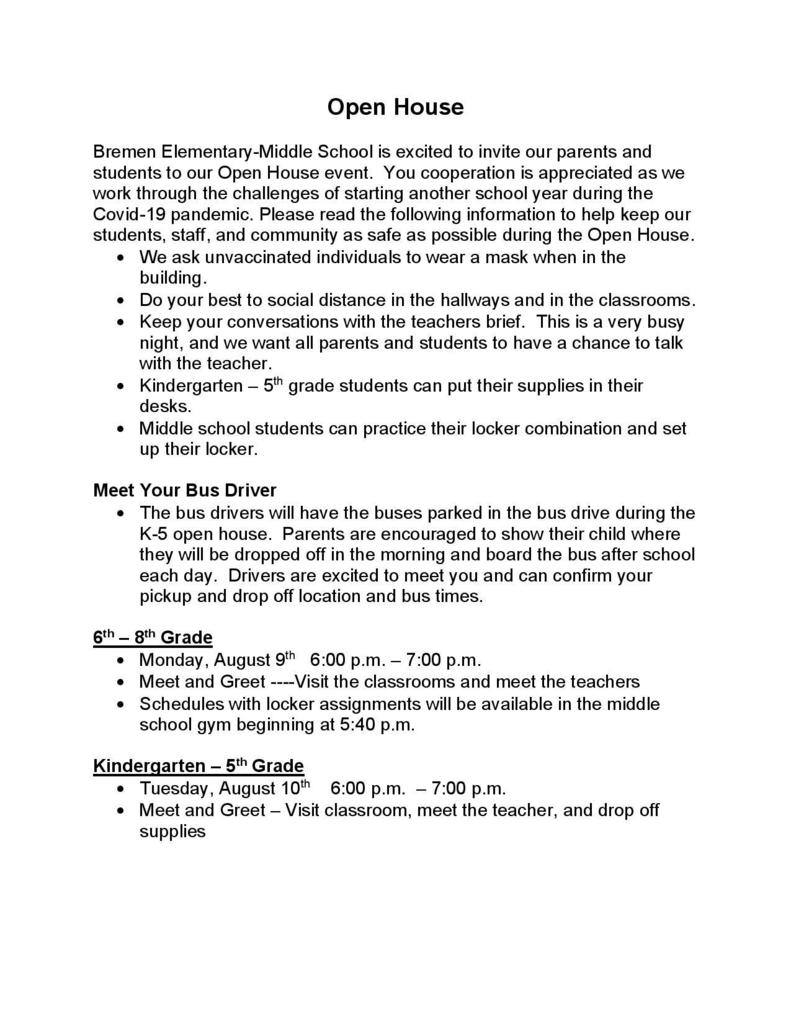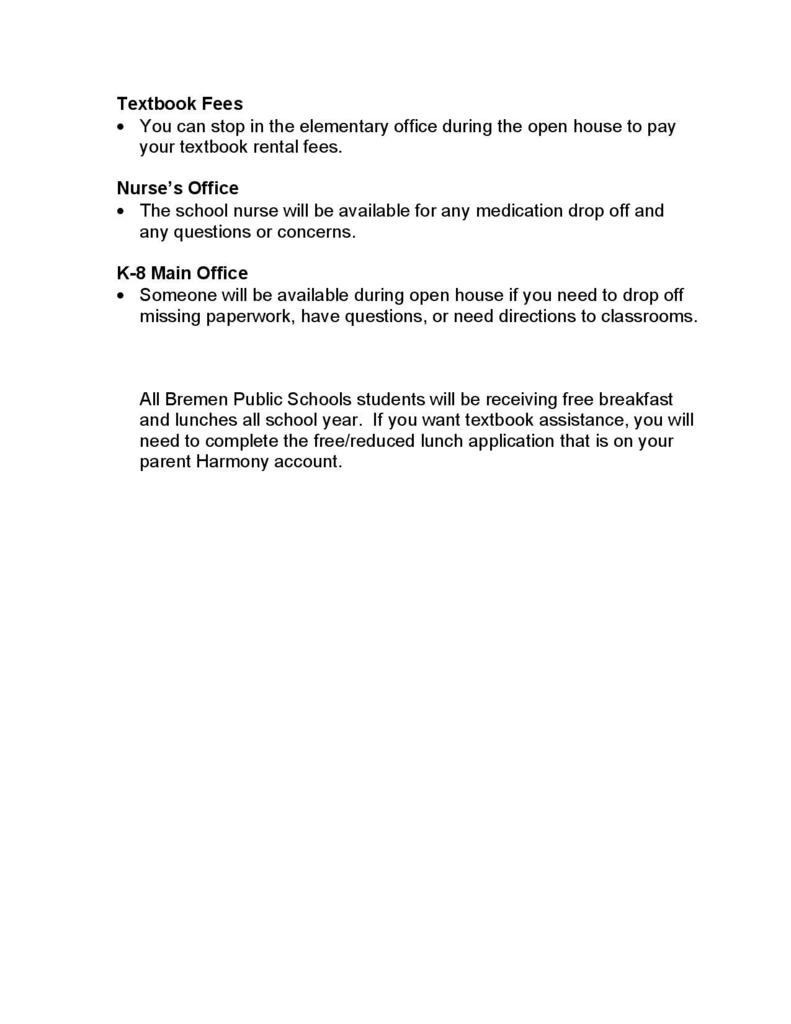 Device distribution for Grades 5-12 is Wednesday, August 4, 2021, in the Lions Den! You can make payments, sign the responsible use policy, and pick up your device; please enter through door 1. Grades 3&4 will receive devices in class on the first day of school.
High School Harmony is now live! Please register your student by August 11th. Device distribution is Aug. 4th 11-6:30. Please pay the $20 computer insurance online or in the office to avoid long lines that day. This fee is included in textbook rental.
Bremen Jr. Football: signups for 1st – 3rd flag and 4th – 6th contact football will be on Thursday, August 12th, from 5:00pm to 5:30pm at the Bremen Junior Football Fields just South of Jane's Park on Woodies Lane. Sign up fees are $25 for Flag and $40 for Contact.

Parents with students in grades 3-8 - There has been confusion on the $20 computer insurance fee. When you are paying online through Harmony, the $20 fee is INCLUDED with the textbook fees. You can pay only the $20 but note there is no seperate button or tab for just computer fees. Mrs. Fitch will be available today in the office until 3:00 p.m. for payments if you want to avoid the long lines at distribution tomorrow.
BREMEN HIGH SCHOOL Online Registration & Textbook Rental: Harmony Opening Aug 3rd! You are required to set-up a Harmony Family Access Account. Parent access codes have been emailed to parents of new students. To access online registration, you will need to login with your username and password at
www.bps.k12.in.us
and click on the Harmony Portal. All parents are required to go online and complete online registration. If you have any questions, please contact the high school office at 574-546-3511 or email
Matkins@bps.k12.in.us
for help locating your harmony registration information. Only new students will be emailed the access codes. Textbook Rental can be paid online through Harmony. Cash, card, or check can be accepted in the office.

K-8 Harmony is now live. Parents will need to complete registration by Wednesday, August 11th. Translation services will be available Monday, August 2nd Noon - 6:00 p.m.

Important Back to School Information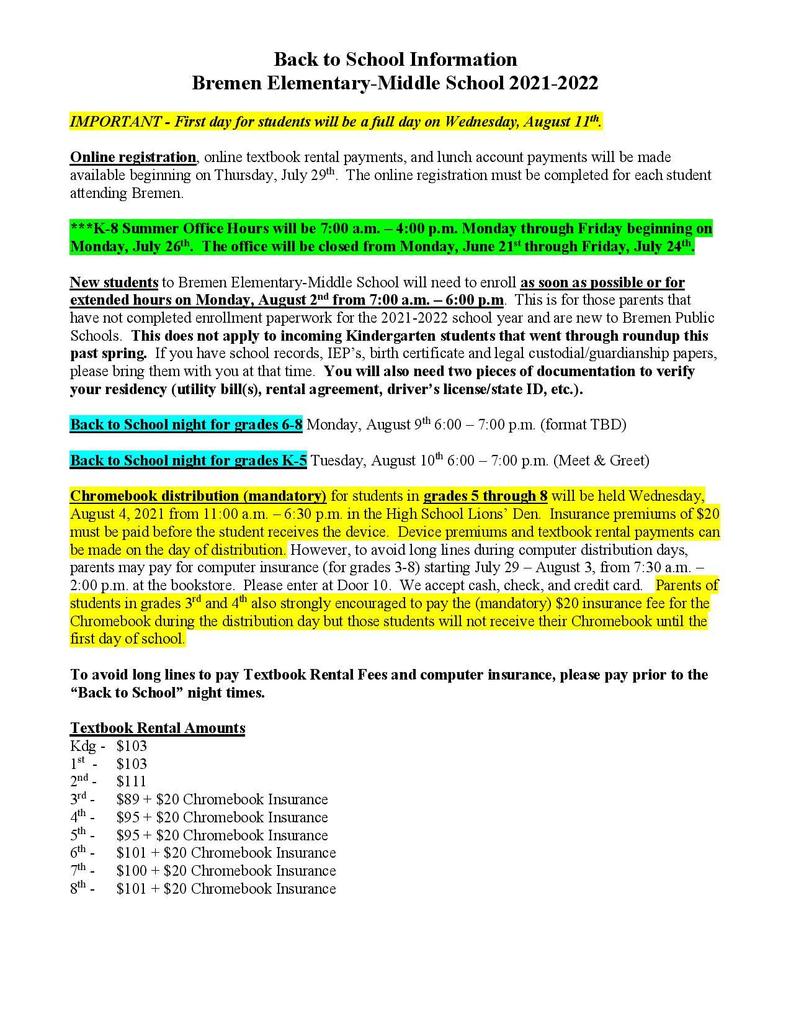 Meijer Parking Lot Bus Stop Bremen Public Schools is pleased to announce that we will be adding a bus stop in the parking lot of the Meijer store located off Bremen Highway near US 20 bypass. Bus 14 Morning pick up time: Approximately 7:15 a.m. After school drop off: Approximately 3:30 p.m. Location: Southside of parking lot A parent/designated adult must be present at drop off time. If parent/designated adult is not in the parking lot, the student will be brought back to the school. Please contact Jennifer Stine at Bremen Elementary-Middle School office 574-546-3554 or
jstine@bps.k12.in.us
 before August 6th to register your child for the bus. The office is open from 7:00 a.m. – 4:00 p.m.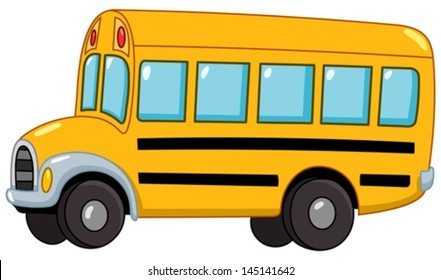 Help Wanted - We have a few openings (part-time & full-time positions) available. If you are looking for the same schedule as your school-aged children, extra money for those unexpected expenses, or have some time available to help our kids, please apply online:
https://bremen.tedk12.com/hire/index.aspx

Free school supplies!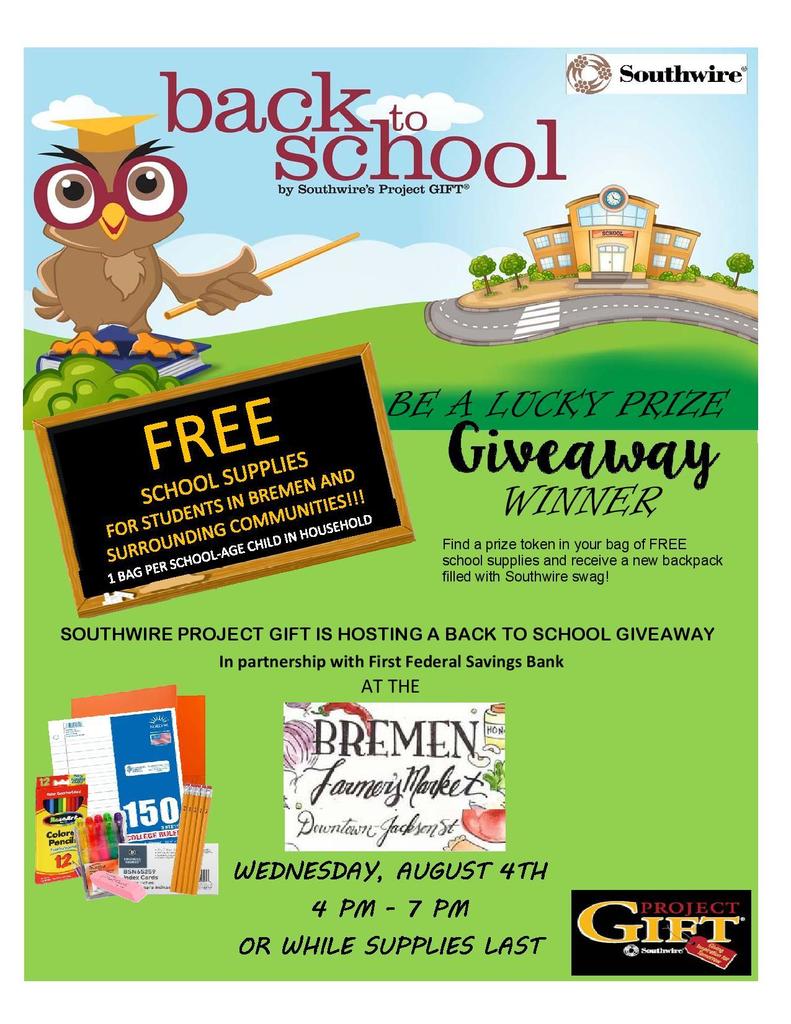 The cafeteria is hiring Lunch Assistants. The hours are 10:00 a.m-1:30 p.m./ Monday – Friday. Perfect for any person just needing a few hours a week. Anyone interested can apply at
www.bps.k12.in.us
online or fill out an application at the Administration bldg. If you have any questions, you can email Amy Stouder @
astouder@bps.k12.in.us
or (574)546-3929
The Bremen VFW is hosting a corn hole tournament for the Bremen Boys and Girls Club on Saturday, July 31st, starting at 2 pm for anyone age 14 and up. $20 entry fee.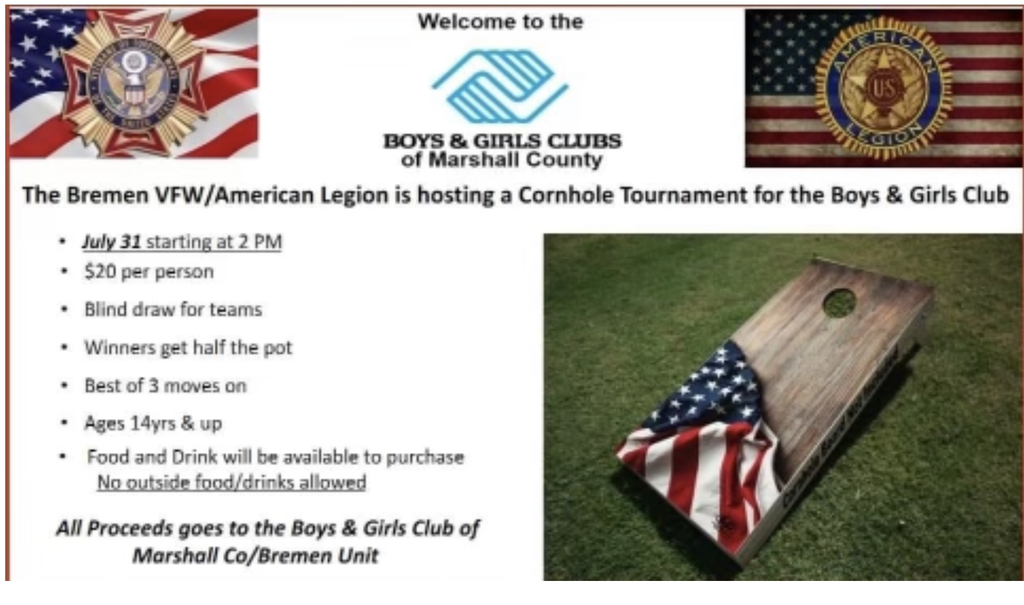 The 2020-2021 K-8 yearbooks are here! They will be available for pickup on Monday, July 26th (ONLY) from 11:00 a.m. - 1:00 p.m. inside Door 9. Yearbooks, not picked up on this day, will be delivered to your child on the first day of school. Questions should be directed to
mnunemaker@bps.k12.in.us
.
The Marshall County Health Department's Mobile Medical Unit will be at the Rentown Country Store tomorrow from 10am-2pm. They are taking walk-ins. Please stop by if your child needs to get their vaccinations for school.