BEMS Fun Festival sponsored by the PTO is this Saturday, February 11th, from 4:00 - 7:00 pm in HS Gym B. Enter at Door 15. Free admission. Fun for the whole family. Wrist band prices: $20 presale/$25 at the door for unlimited games/activities; $10 game cards (25 games/activities). Presale food tickets and wristbands available at school this week (7:45 - 8:15 am and 2:45 - 3:30 pm today and Friday, 8:10 - 8:30 am and 2:45 - 4:00 Thursday). Presale tickets are inside door #9 next to bookstore window.

Help Wanted in the Cafeteria . The cafeteria is hiring Cook's and Lunch Assistant's The hours vary Monday – Friday Anyone interested can apply at
www.bps.k12.in.us
online or fill out an application at the Administration bldg. If you have any questions, you can email Amy Stouder at
astouder@bps.k12.in.us
or (574)546-3929 ext. 2023

Call outs for middle school swim club will be this Thursday, February 9th, at lunch time with Coach Miller. Information about practices and the season will be provided at that time.

This Thursday, Feb 9th, is the Kindergarten, 1st, & 2nd grade Art Show @ Sweet G's Ice Cream Shop in Nappanee. The show will take place from 4-10pm! Go see our students' artwork and purchase some delicious ice cream!

February Read Like a Champion Challenge - Dress Up Days this Week: Tuesday (2/7) Read My Shirt (shirt with words); Friday (2/10) Dress as your favorite book character.

PreK-8 Dress Up Days this week for Read Like a Champion: tomorrow (Thursday) "Read Like Crazy" Crazy Socks Day; Friday "Hats off to Reading" Hat Day.

Freshmen Orientation for Bremen High School will be held tonight in the Bowen Auditorium starting at 6 pm for 8th grade students and their parents.

Just a reminder that it is going to be quite cold tomorrow morning. As such, please make sure that our kiddos are dressed accordingly.

Parents are reminded if you have an address or phone number change to make sure you update this info in your Harmony Parent account. This will ensure we have the most current information available if we need to contact you for any reason.

Girls Basketball game at Caston has been cancelled for tonight.

There will be no intramural basketball games this evening.

All BEMS K-8 games, practices, clubs, STUCO, and academic teams have been cancelled for tonight.

All basketball and wrestling practices for 5th through 8th grades have been canceled for today.

Tonight's 7/8 girls basketball game at LaVille has been canceled.

GIven the current conditions and forecast, BPS will open on time today. If you prefer to keep your child at home, we completely understand.

Elementary Art Show @ Sweet G's Ice Cream & Soda Shop in Nappanee.

ATTENTION PARENTS OF 8th GRADERS: Next week the high school counselors will be visiting Mrs. Dennie's Colllege & Careers classes to begin the process of scheduling 8th graders for high school classes.  On Wednesday, February 1st, from 6-7 pm in the Bowen Auditorium, Freshmen Orientation Night is scheduled.  At this time you will receive your child's HS packet with classes that have been recommended/selected.  Please mark this date on your calendar and plan to attend. 

5th Grade Girls - Join Girls on the Run at BEMS! Twice per week for 10 weeks, girls will have fun, make friends, explore valuable lessons, develop positive social skills and find joy in physical activity! Trained and caring volunteer coaches lead 3th–5th grade girls through interactive lessons and running games. Practices will be held starting the week of March 4th: Tues/Thurs 3:30 - 5 pm. Registration will open on Saturday, January 14th, at 9 am, on a first come, first served basis, so grab your spot today! Check out this video to see the program in action:
https://tinyurl.com/3sf8trde
For more information and to register visit:
www.girlsontherunmichiana.org
. Financial assistance is available.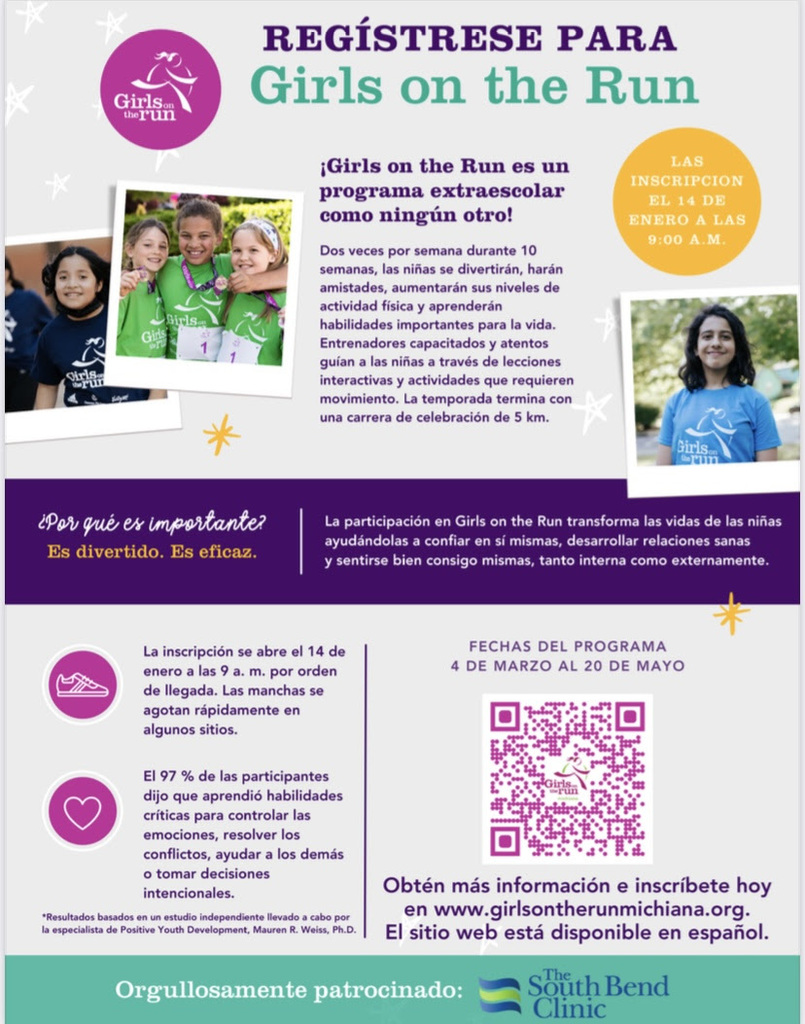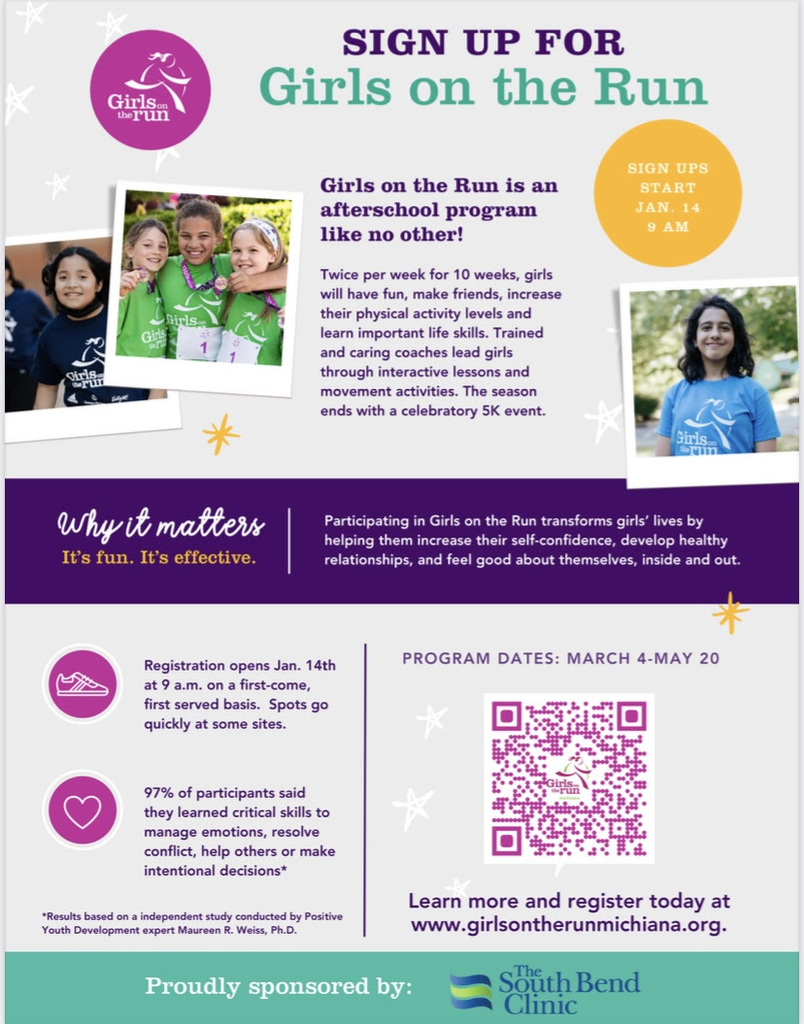 Bremen Elementary-Middle School proudly announces the 2nd nine-weeks awards programs to be held on Friday, January 13, 2023. Parents/guests are welcome to attend. Please enter the auditorium lobby through Door 3 off Grant Street. 8:20 a.m. - Kindergarten & 1st Grade – Bremen Honor Awards, NWEA awards (top scorer and highest growth from Fall testing per classroom and subject), Kind & Caring Kindergartner 9:15 a.m. – 2nd & 3rd Grade - Bremen Honor Awards, NWEA awards (top scorer and highest growth from Fall testing per classroom and subject), 3rd Grade Xtra Math Awards 10:30 a.m. – 4th & 5th Grade - Bremen Honor Awards, NWEA awards (top scorer and highest growth from Fall testing per classroom and subject), Honor Roll (All A' & A's/B's for 2nd Nine Weeks) 2:15 p.m. - Middle School (Grades 6-8) - Bremen Honor Awards, NWEA awards (top RIT score and biggest growth from each grade level), Boys' Basketball and Cheerleading Awards, Honor Roll (All A's & A's/B's for 2nd Nine Weeks)

The Parent/Student Orientation Program for 8th graders entering High School is on Wednesday, February 1st from 6:00-8:00 p.m. in the Bowen Auditorium. Home-schooled and Lutheran School students are welcome to attend these orientation activities. Parents are also welcome to request a meeting. If there are any questions, or to schedule a meeting for a new student please call the Bremen High School Guidance Office at 546-3511 ext. 3354 between 8:00 a.m. and 3:30 p.m.