Class of 2022! Please check your email regarding the senior yearbook pictures that are being taken today and tomorrow.

If your child ordered a K-8 yearbook, they should be in the first week of July. We will let parents know when they are available.

Please join us for the Summer Food Service Program 11:00-12:30. Today's Menu is.. Chicken Nuggets, Mashed Potatoes w/Gravy, Roll w/Butter, Peaches and Milk.
Just a reminder that the BHS graduation ceremony will be live streamed here:
https://www.facebook.com/BremenLions
Please know that due to copyright issues, there will be no sound during the senior video.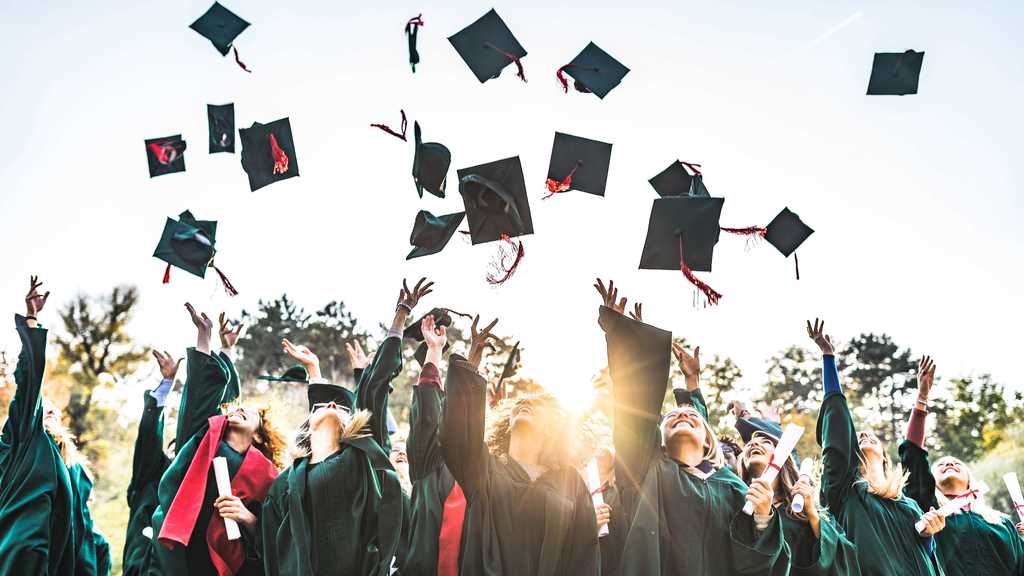 MIDDLE SCHOOL CROSS COUNTRY INFORMATION: Any middle school boy or girl interested in running cross country in the fall needs to fill out this form to receive team notifications about practices and events this summer.
https://forms.gle/QjYbuNf9Mt1ZmZZQ8
For more information about the upcoming and past cross-country seasons, visit the team website at
http://bmscross.weebly.com/
Not that we have reached our last day of school for the 2020-21 year, allow me to take a moment to thank our parents, community, and countless others who have supported us through this process. Trusting us with your children during this pandemic was an honor which we are truly thankful. The words, deeds, and offering of support were greatly appreciated. We look forward to next year, regardless of any challenges we may face, as serving our community is a privilege that we readily embrace. Enjoy your summer!! Dr. Jim White Proud Superintendent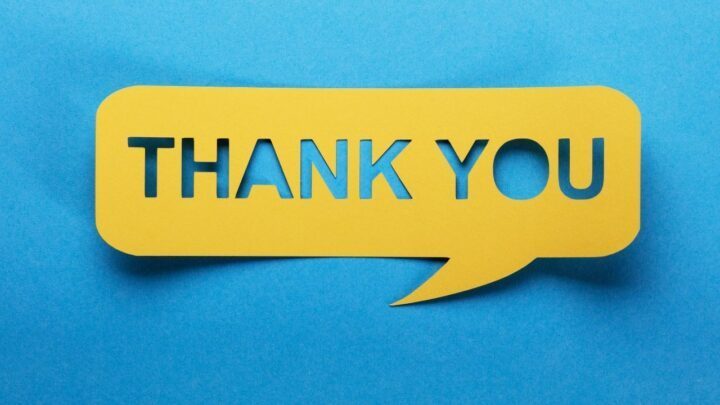 Congratulations Class of 2021, Provided is information regarding commencement: Bremen High School is planning a traditional, indoor, Commencement ceremony for members of The Class of 2021. The prestigious event will occur in "Gym B" (the largest gym @ BHS) at 2:00 p.m. on Sun., June 6th. The south doors of the Gym B will open at 1:00 p.m., and mask-wearing will be an expectation for all guests. Parking is available in the south and east parking lots of Bremen High School, and guests may enter through Door #2 & #5 (from Grant Street) or Door #16 (from Marshall Street). Parents, grandparents, & siblings are encouraged to attend the 131st Commencement of Bremen High School on Sun., June 6th; however, due to COVID-related capacity restrictions for the venue, patrons other than immediate family members should plan to watch the livestream video of the Commencement ceremony on the Bremen Public Schools' Facebook site:
https://www.facebook.com/bremenpublicschools
. Following the ceremony, Seniors will leave the gymnasium immediately (without interacting with family members), get in their decorated vehicles (to be driven by a designated adult friend or family member), and voluntarily experience a caravan of graduates through downtown Bremen (as did The Class of 2020) to Sunnyside Park on the east side of Bremen. At Sunnyside Park (close to the pool/pavilion area) friends and family members of the graduates can gather for congratulatory hugs, handshakes, & photos (or simply drive back to the school or go home). In addition to Commencement, a short (25-minute) Baccalaureate service for the graduates (who opt to attend) is scheduled to occur in The Bowen Auditorium (Door #3 from Grant Street) at 1:00 p.m. on Sun., June 6th. Like Commencement, parents, grandparents, and siblings are welcome to attend Baccalaureate. If you have questions/concerns, send an email to
bjennings@bps.k12.in.us
or call the Bremen High School Office at 574-546-3511. Bruce D. Jennings Principal of Bremen High School
The 8th grade celebration on Tuesday, June 1st, will be live-streamed on the BPS Facebook page starting at approximately 1:40 pm.

Device collection starts tomorrow! Make sure your student brings in their device, bag, and power adapter. Thursday, May 27th: Grades 3-5 Friday, May 28th: Grades 6-8 Tuesday, June 1st: Seniors! Grades 9-11 do not need to turn in their device unless they are leaving the district. P.S. Please have your student take out any papers, calculators, pencils/pens, or earbuds from their computer case! We will throw away anything left in their case that is not their device or power adapter.
Marshall County now has their own free app. It can be found in the App Store and the Google Play store under Marshall County Indiana. It can send push notifications for weather alerts, where you can find the health department's mobile medical unit, and various links. Check it out!

SENIORS and SENIOR PARENTS, please make sure you are checking your emails frequently. Mrs. Stillwell and Mrs. Atkins will be sending out lots of information in the days leading up to graduation. Thank you!
Bremen High School National Honor Society New Inductees for 2020 and 2021 Back Row (Left to Right): Corey Schmidt, Marty Manges, Ty Feldman, Caleb Cullers, Carson Miller, Dawson Hickman, Taylor Hasley, Aaron Douglass, Sophia Freehauf Middle Row (Left to Right): Lextin Willis, Ethan Nunemaker, Brenna Stine, Reid Frame, Jaiden Monhaut, Zoey France, Gretchen Willis, Alivia Wogomon, Alivia Wilson, Ellia Foster, Katie Moyer First Row (Left to Right): Grace Meyer, Sarah Bollenbacher, Madyson Shumaker, Trinity Beachy, Allison Jeffirs, Selena Martinez, Emma Heller NOT PICTURED: Caroline Bickel & Brody Ecenbarger ___________________________ New Inductees for 2020 and 2021 Trinity Beachy Caroline Bickel Sarah Bollenbacher Aaron Douglass Brody Ecenbarger Ty Feldman Ellia Foster Reid Frame Sophia Freehauf Taylor Haseley Allsion Jeffirs Charles "Marty" Manges Carson Miller Jaiden Monhaut Gretchen Willis Lextin Willis Alivia Wilson Zoey France Dawson Hickman Grace Meyer Ethan Nunemaker Alivia Wogomon Caleb Cullers Emma Heller Selena Martinez Katie Moyer Braden Unruh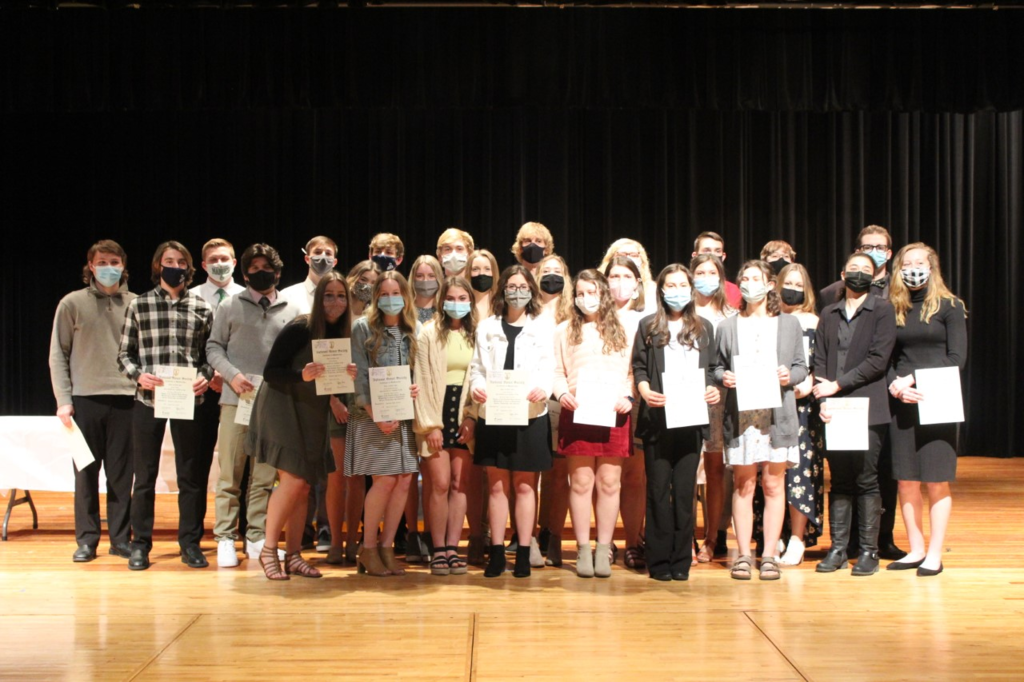 Mr. Brandt Ayoub is the Bremen High School "Teacher of the Year," as voted on by the students and faculty members. Mr. Ayoub is completing his sixth year of teaching English at Bremen High School, and he is also the Student Council Sponsor and the dual credit ACP Speech teacher at BHS
The Bremen High School Annual Psi Iota Xi Art Show was a huge success this year featuring over 450 works created by students at BHS. The Theta Delta chapter of Psi Iota Xi has been the generous sponsor of the show in the past and once again this year made it possible to award custom ribbons and cash prizes to 16 students. Art show viewers had the chance to vote for the People's Choice Award which went to senior Courtney Lawmaster for her intricate teapot set. There were also 2 Purchase Award winners this year, senior Katie Barnes for her stunning oil painting and 2020 graduate Kristyn Kertai is working on a custom piece to be displayed in the hallways at Bremen High School (since there was not an Art Show in the spring of 2020). The overall Best of Show winner was sophomore Katie Moyer for her original charcoal drawing. The show was judged by Robin Racolta, owner of Robin's Nest in Bourbon, IN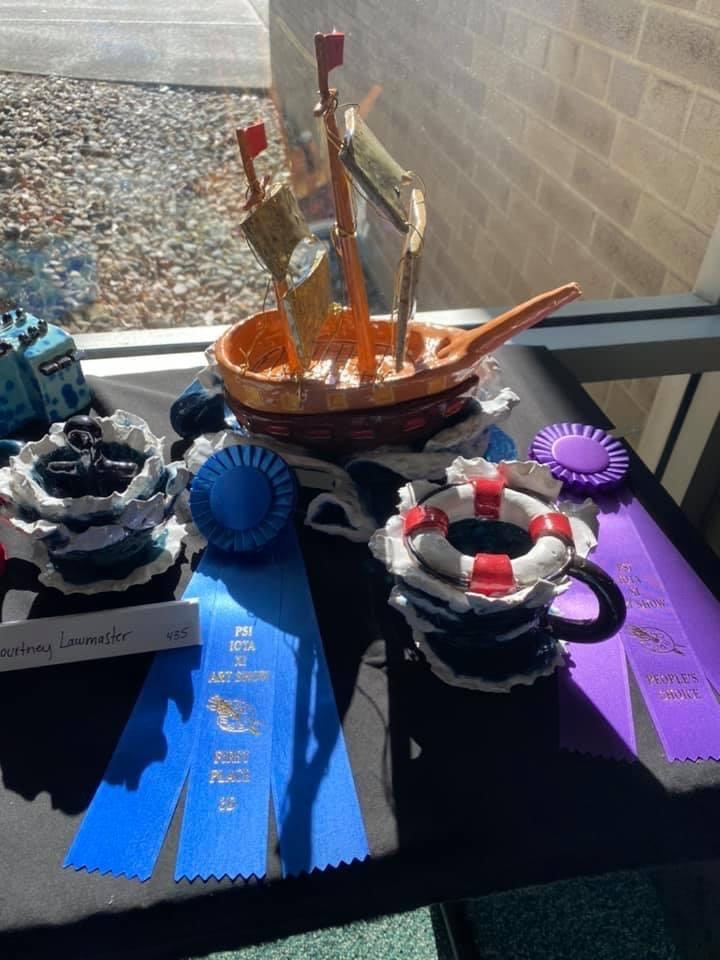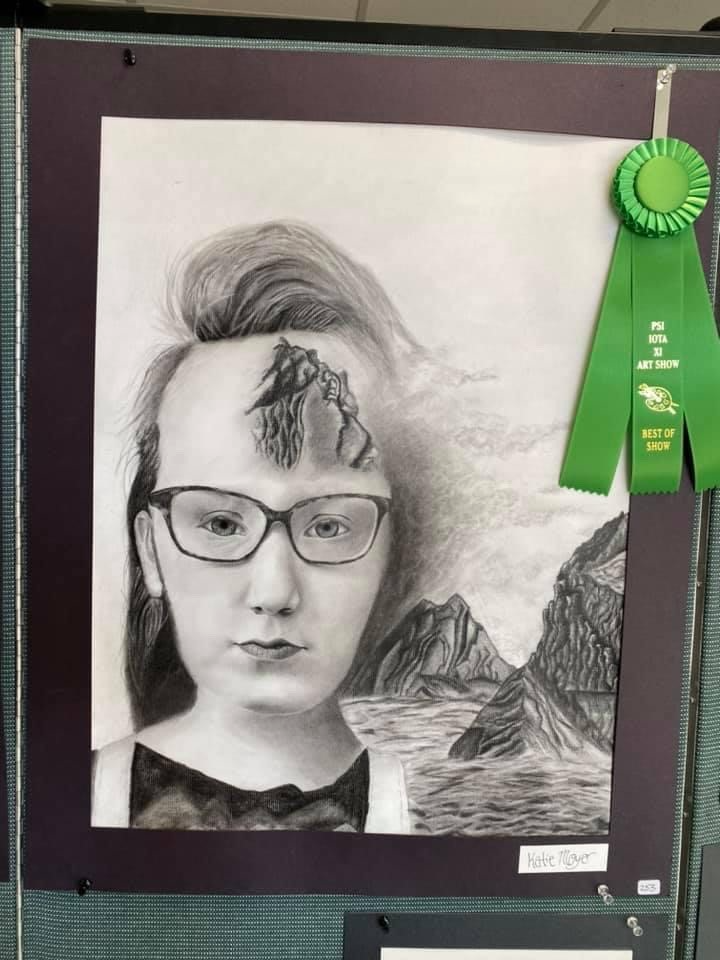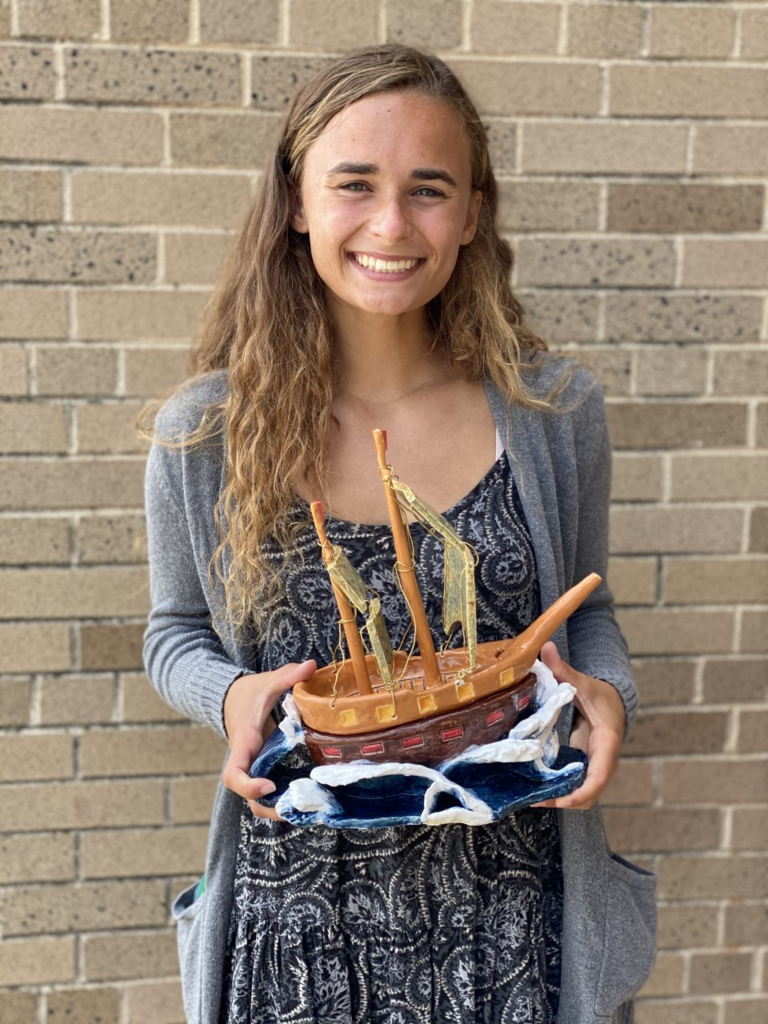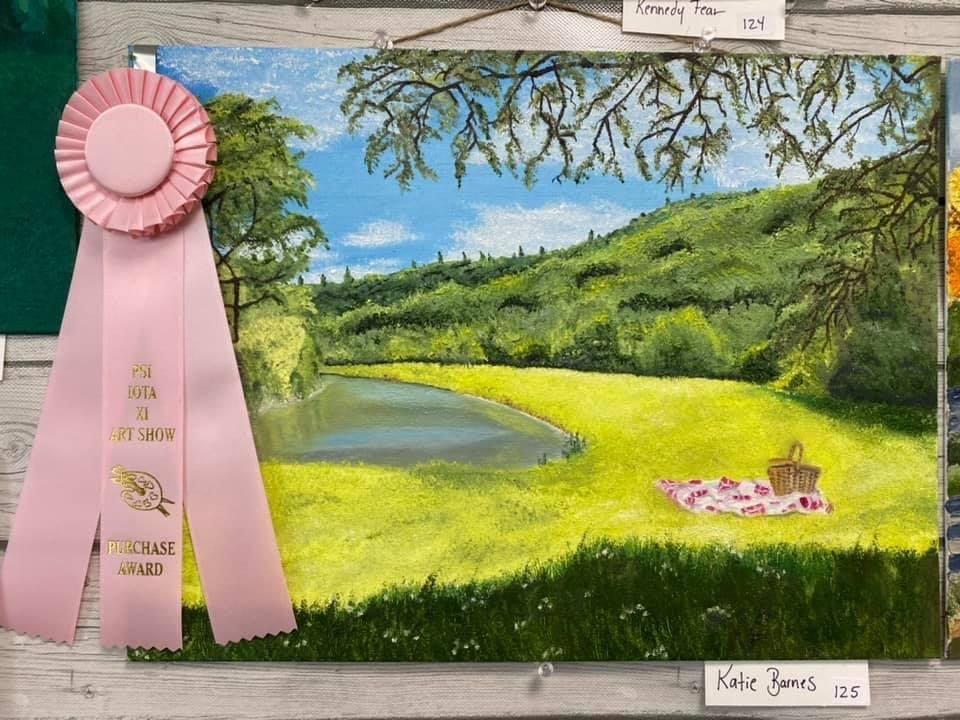 Device collection starts next week! Make sure your student brings in their device, bag, and power adapter. Thursday, May 27th: Grades 3-5 Friday, May 28th: Grades 6-8 Tuesday, June 1st: Seniors! Grades 9-11 do not need to turn in their device unless they are leaving the district.
Some images of our middle school choir students from tonight's concert.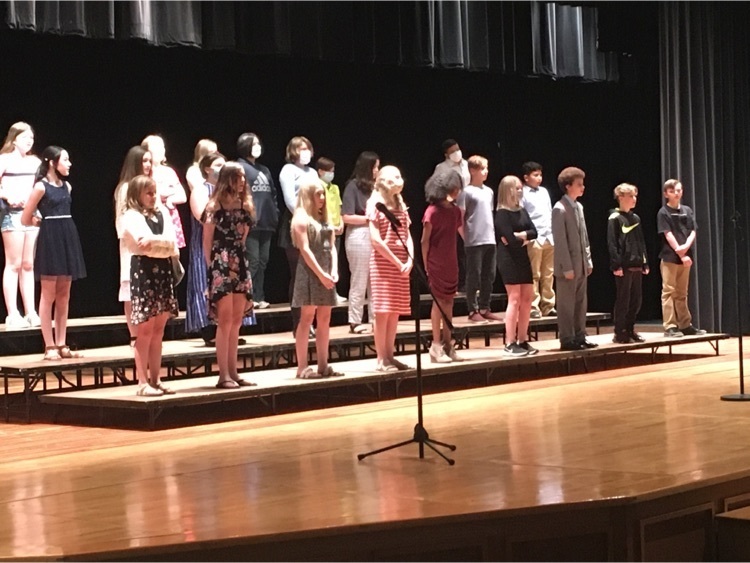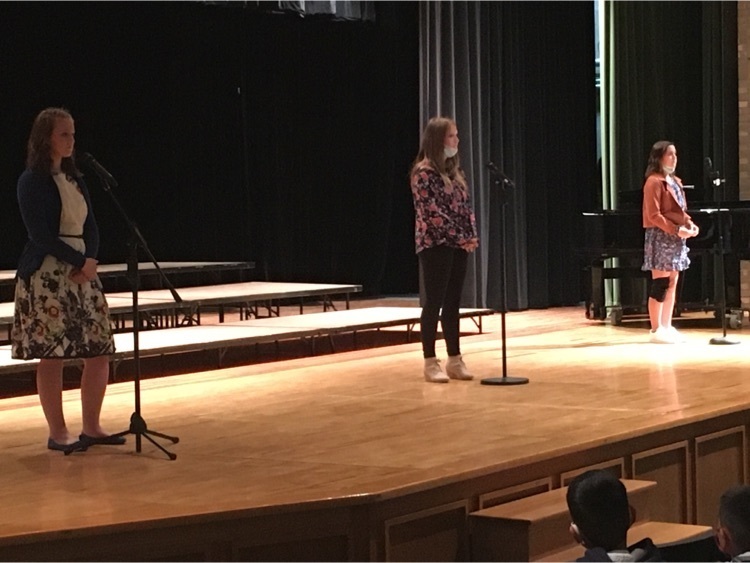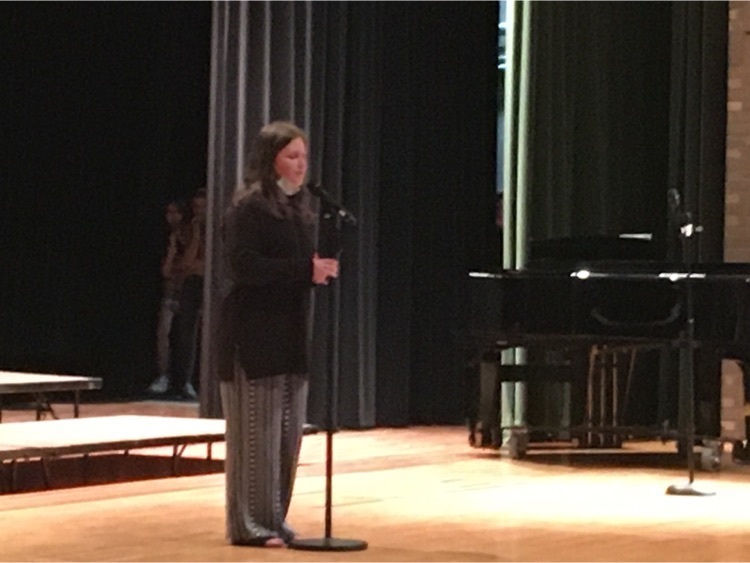 Just to clarify, a recent news story on ABC 57 has left the impression that Indiana no longer has any masking requirements. While this is largely true, Governor Holcomb's Executive Order requiring masks in schools is in effect until the end of this academic year. It is my hope that next year, we will return to normal operations, however, that decision will need to wait until a later date. Thank you for helping us have a very successful year! We have just a few more school days to go until the end of the year, so let's make the best of them! Jim White Proud Superintendent Bremen Public Schools

Menu Change For Thursday May 13 Chicken Manhattan, Mashed Potatoes w/Gravy, Pinto Beans, Pineapple, Roll w/Butter Cup and Milk.